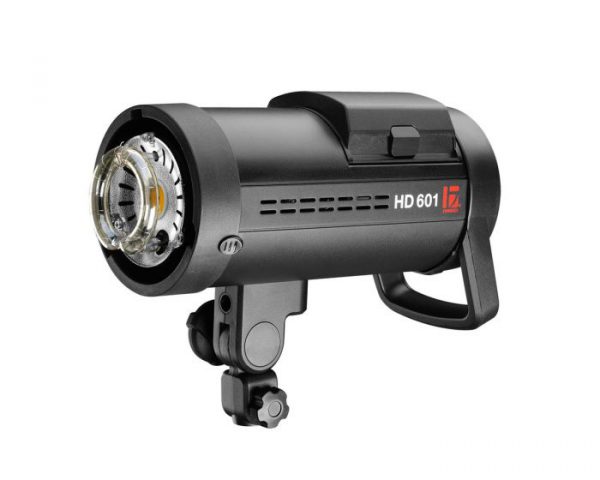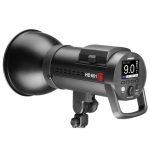 JINBEI HD-601 500Ws Battery powered flash head with HSS
AED 1,499.00
High capacity Li-polimer battery. Up to 450 full power shoots per charge
Built-in wireless receiver
Compatible with Canon/Nikon/Sony TTL USB firmware update available
1/8000s High Speed Sync and 1/19000s Flash duration (t0.5)
Flash duration (t0.5) NOR: 1/800s-1/8000s / FREEZE: 1/800s-1/19000s
Color temperature NOR: 5500 K 150 K / FREEZE: 5500 K 800 K
Power source Lithium battery / DC14.8V 6000mAh
Battery capacity Up to 450 times at full power.
Description
Brand
Reviews (0)
Description
The Jinbe HD 601 provide an S-type accessory mount, and a fan cooled 10 watt LED modeling lamp, with warm 3200K color temperature to help match halogen bulbs.
The modeling light provides manual control in fine 0.1 increments across a 9 stop range, or proportional control adjusting automatically to match the strobes manual power level.
Remote control from the Jinbei transmitter unit is limited to turning the modelling light ON and OFF (via individual group though, and using Manual or Proportional modes).
The HD 601's 14.8V 6000mAh Lithium-ion battery provides around 450 full power pops per charge. And now includes a built in charge level indicator. An AC power adapter for mains power use is also available.
Current transmitter units for the HD 601 include the TR-611C for Canon, and TR-612N for Nikon. Though TR-Q6 transmitters for Canon, Nikon, and eventually Sony, will also be coming.
The TR-611C, and TR-612N both provide 3 flash groups A / B / C. Remote zoom control for speedlites is also available by group .The hotshoe on top of the units when used as transmitter mounted on the camera provide full TTL pass through for a flash mounted on top.
Radio range is specified as up to an impressive 300 meters.
The TR-611C, and TR-612N transceivers can also act as receiver units.
And these can be used to simply fire other strobes in combination with the Jinbei lights, or even fire and control compatible TTL speedlites.