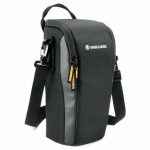 Vanguard Alta LPL Lens Case (L)
AED 95.00
The ALTA LPL Lens Pouch (Large) is a great auxiliary pouch to carry along an additional 70-200mm F2.8 lens when needed. Comes with included carrying strap, ALTA LINK connection to any ALTA BAG, belt or harness and a bonus lens cleaning cloth.
ALTA LINK – connector to ALTA BAGS for ultimate Vanguard ALTA EXPERIENCE
Quick-action – extra wide top opening for quick and easy access
Always protected – well-padded all round
Versatile carrying – included carrying strap as well as the connector for belt, harness or bag
Always clean – includes bonus lens cleaning cloth
Description
Brand
Reviews (0)
Description
The ALTA Lens Pouch are great auxiliary pouches that are perfect for either carrying light and compact, or adding on extra to your bag when overpacked!
The ALTA LPL is a well-padded protective pouch tailored to fit a 70-200mm F2.8. It features top opening away from the user's body, that tapers down the front for wide opening and quick access.
It also includes side loops for snap-on connections and a large bonus lens cleaning cloth that is attached to the rim so that it never gets lost (but can be cut out as per your preference).
Versatile carrying options offer an individual carrying strap as well as a sturdy ALTA LINK Connector that will secure the pouch comfortably on a belt, or harness and enable connection to any ALTA BAG for the full ALTA EXPERIENCE.