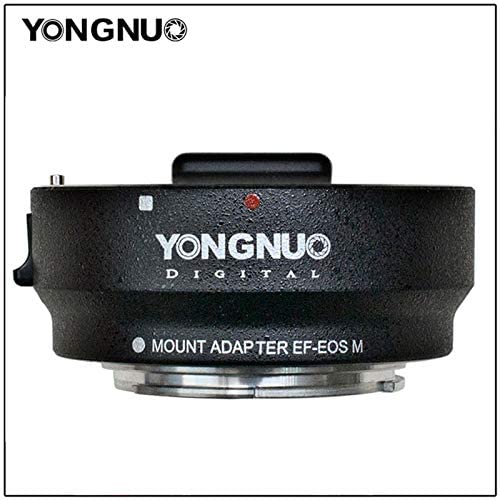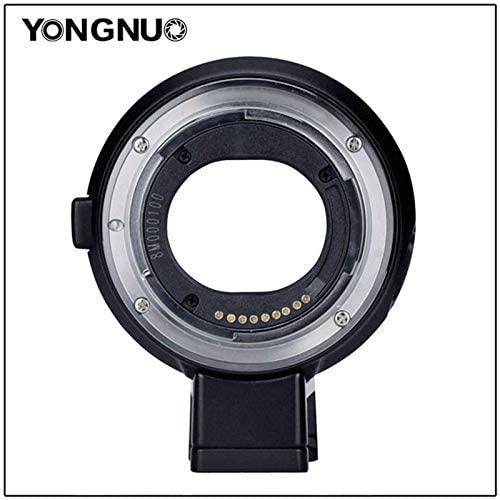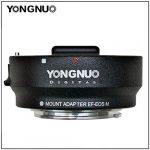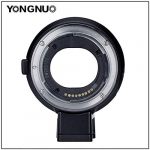 Yongnuo EF-EOS M Adapter
Camera Mount: Canon EF-M
Lens Mount: Canon EF/EF-S
Material: Metal
Tripod Mounting Thread: 1/4″-20 Female
Dimensions: 8.5 x 7.0 x 3.1 cm / 3.3 x 2.8 x 1.2 in
Weight: 164 g / 5.8 oz
Package Weight: 220 g / 7.7 oz
Box Dimensions (LxWxH): 10.7 x 8.9 x 4.7 cm / 4.2 x 3.5 x 1.9 in
Description
Brand
Reviews (0)
Description
Yongnuo EF-EOS M Lens Adapter for Canon EF/EF-S Lens to Canon EOS M Camera allows EF or EF-S mount lenses to be used on a Canon EOS M mount mirrorless cameras. The adapter supports electronic communication between an attached camera and lens enabling image stabilization, autofocus as well as camera-controlled aperture functions. Yongnuo EF-EOS M II adapter is by far the cheapest EF to EF-M mount adapter out there that allows autofocus and full electronic communication.
The Yongnuo Lens Mount Adapter for Canon EF/EF-S Lenses to Canon EOS M Camera enables you to use your Canon EF and EF-S lenses with the Canon EOS M mirrorless digital camera system, which uses an EF-M lens mount. It is fully compatible with all lens functions, including image stabilization, electronic aperture control, and autofocus. A tripod adapter is provided for reducing strain on the camera when using heavier lenses. This mount can be removed for using longer telephoto lenses that feature their own tripod collar. And, included with the adapter are front and rear caps for storage.
Within the adapter barrel, an internal, matte black covering minimizes the appearance of reflections. To help reduce stress on the camera mount when placed on a tripod, the adapter includes an Arca-type compatible tripod foot with 1/4″-20 threads.
Allows a Canon EF or EF-S mount lens to be used on a Canon EOS M mirrorless digital camera system
Supports electronic communication between camera and lens to enable autofocus, image stabilization, on-camera aperture control, and Exif metadata generation when possible
Internal covering minimizes reflections within the adapter barrel
Arca-type compatible tripod foot with 1/4″-20 threads can be used to reduces stress on a connected camera's mount
Lightweight construction with durable, metal mounting rings
Locking mechanism for secure attachment of lens with push-button release
Package includes:
Yongnuo EF-EOS M Lens Adapter
Front Lens Cap
Rear Lens Cap