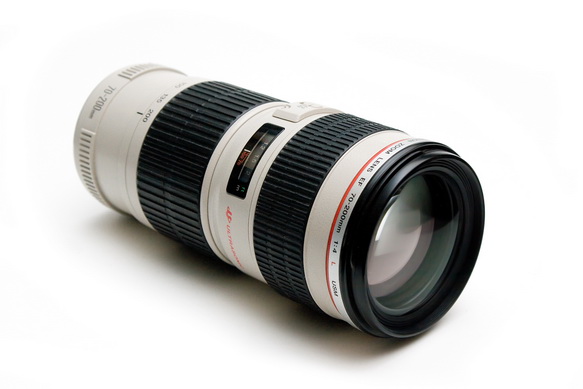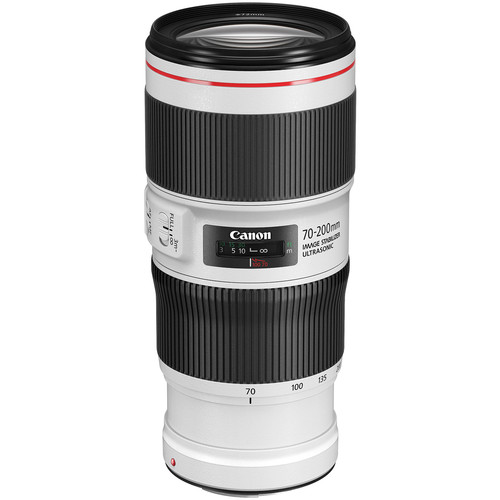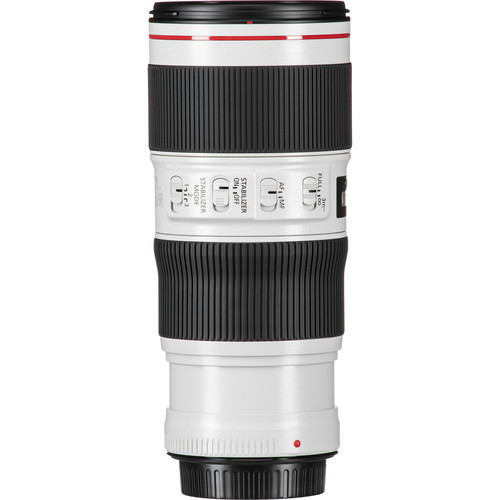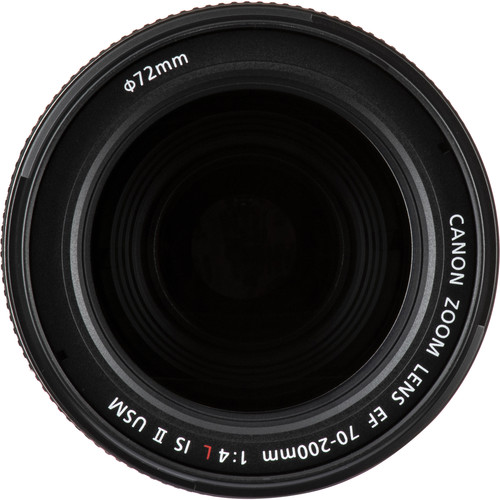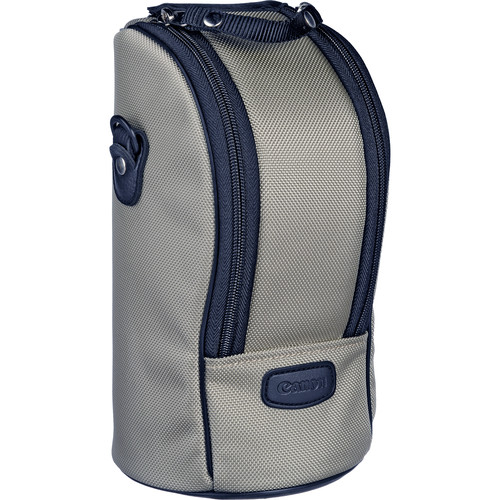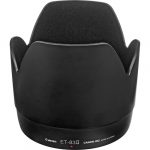 Canon EF 70-200 mm F4L IS USM lens
AED 3,430.00
Focal Length & Maximum Aperture 70-200mm 1:4.0 ,
Description
EF-Mount Lens/Full-Frame Format
Aperture Range: f/4 to f/32
One Fluorite Element and Two UD Elements
Super Spectra Coating
Ring-Type Ultrasonic Motor AF System
Optical Image Stabilizer
Internal Focus, Focus Range Limiter
Weather-Sealed Construction
Rounded 9-Blade Diaphragm
The EF 70-200mm f/4L IS USM  offers a lightweight alternative to the renowned
EF 70-200mm f/2.8L IS USM, complementing Canon's other professional L-series  lightweight zooms such as the EF 17-40 f/4L USM and EF 24-105L IS USM. f/4L  lenses are designed for professional photographers requiring a light zoom lens  with a fixed aperture throughout the zoom range. The lens adds Canon's proven  Image Stabilizer technology to the popular EF 70-200mm f/4L USM while  maintaining that lens' compact size.
Image Stabilizer
4  step Image Stabilizer (IS) extends low light options to previously unimaginable  levels. Photographers normally shooting handheld at 1/250 sec can switch on IS  to obtain a similarly steady and blur-free result with a shutter speed of just  1/15 second.
IS  reduces dramatically the image blur caused by camera shake. Gyro sensors detect  unwanted vibrations, triggering the corresponding movement of a correcting lens  group perpendicular to the optical axis. This alters the light path, returning  the image to its correct position on the sensor or film plane.
For  shooting immobile subjects, Mode 1 corrects for movement in the image along  both the horizontal and vertical axes. For shooting while panning horizontally  to follow a moving subject, Mode 2 turns off vertical correction and prevents  the effect of dragging the subject back through the frame.
IS  switches off automatically when the camera is mounted on a tripod, thus  preventing feedback loops between the IS sensor and internal motor vibrations.
Superb auto-focus
The lens' Ring-type USM employs  ultra-sonic frequency vibrations to drive auto focus with unrivalled speed and  near-silent operation. A powerful CPU and improved AF algorithm contribute to  speed performance. Good holding torque stops the lens with precision and  accuracy, the instant it arrives at the correct focus point and without  overshoot. Photographers can switch to manual focus instantly and at any time  simply by moving the manual focus ring without first having to switch out of  auto focus mode.
f/4 from 70 to 200mm
The EF 70-200mm f/4L IS USM  offers the highest possible optical quality with no change in aperture over the  full focal range of the lens. This allows photographers to set exposure at the  widest aperture and zoom all the way through to 200mm without having to  decrease shutter speed. Lens length does not alter during zooming and the front  lens element does not rotate during zooming or focusing. The lens employs an  almost perfectly circular barrel aperture, helping create attractive, even  background blur.
Image quality
A newly designed optical system  limits lens size and improves image clarity over the total image area. 1 x  Fluorite element and 2 x Ultra-Low Dispersion glass elements are used to  eliminate the secondary chromatic aberrations that otherwise reduce sharpness  and introduce colour fringing. By optimising Super Spectra lens coatings and  lens element shaping, Canon's engineers have been effective in suppressing  flare and ghosting – more prone to occur with digital cameras due to reflection  off the image sensor. By increasing light absorption, coatings reduce  reflections off lens element surfaces to deliver crisp, undistorted images with  natural colour balance.
EOS system integration
The EF 70-200mm f/4L IS USM  includes distance metering information, providing compatibility with the E-TTL  II flash system of late model cameras such as the EOS-1D Mark II, EOS-1Ds Mark  II, EOS 5D and EOS 400D. When used in conjunction with Canon's range of EX  Speedlite flash units, the lens passes distance information to the flash  algorithm for markedly improved flash exposure metering. To match the weather  resistance afforded by EOS-1 pro camera bodies, an O-ring seals the lens  against the lens mount to prevent the ingress of dust and moisture.
AF Mode and IS switches have  been reshaped, making them less susceptible to being engaged or disengaged  accidentally.
The EF 70-200mm f/4L IS USM  comes with a lens hood and lens pouch.