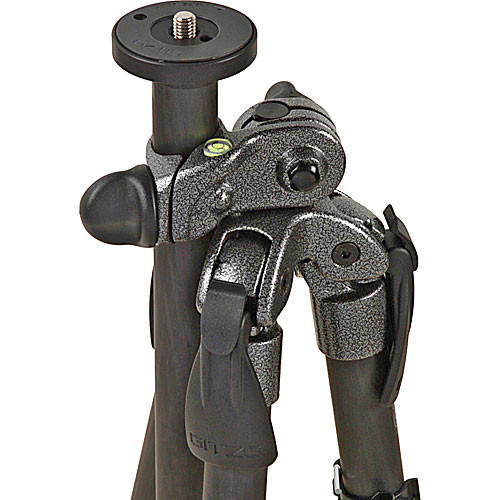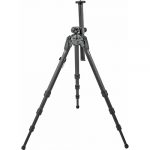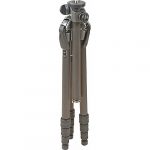 Gitzo GT2541EX Series 2 Explorer 6X Carbon Fiber Tripod
Description
Load Capacity: 26.5 lb
Max Height: 64.6″
Min Height: 1.2″
Folded Length: 21.3″
Leg Sections: 4
Weight: 4.1 lb
Legs and Column Lockable at Any Angle
Anti Leg Rotation
G-Lock Twist Locks
The Gitzo GT2541EX Explorer 6X Carbon Fiber Tripod uses advanced 6-layer carbon fiber material for its leg construction. This improved tubing is stronger, lighter, and as resistant as its 12-layer predecessor. Carbon "6X" is manufactured using a complex, 3D process weaving 6 layers of carbon fiber into smooth, solid constructed tubes. It extends to a height of 64.6″ and folds down to 21.3″ for travel.
The Explorer can hold up to 26.5 lb and weighs 4.1 lb. It features individually locking legs that can be fixed at any angle from 0° to 90° and a column that will tilt from the vertical, right over beyond the horizontal and lock solidly at any angle.
Anti Leg Rotation (ALR) System

The Anti Leg Rotation (ALR) system makes it quick and easy to open and close the tripod. Simply turn all of the locking rings at once and the whole leg can be pulled out in seconds.
Locking Column System

The Explorer is fitted with a column that can tilt from the vertical, beyond the horizontal and lock safely at any angle.
G-Lock Design

The G-Lock mechanism has been completely redesigned in order to achieve a 20% increase in rigidity, faster operation and stronger, safer locking. G-Lock's special design also provides a "gravity lock" effect: the higher the load applied vertically to the leg, the stronger the lock.
Redesigned Upper Discs & Bolts

This tripod features completely redesigned upper discs and bolts. The discs, which are composed of aluminum, feature a safe lock material that reduces vibrations and improves head locking. The improved high-grade stainless steel bolt design prevents it from dropping inside the column when adjusted, and makes controlling the tread length stress-free. The redesigned bolts are also corrosion and oxidation resistant.
1mm Gitzo 6X Carbon Fiber Tube

Gitzo was able to develop a six-crossed multilayer carbon fiber 30 percent lighter than the previous 1.5mm generation that features the same exceptional performance of stability and vibration absorption and unbeatable quality.
Locking Angle System

The explorer incorporates individually locking legs that can be fixed at any angle from 0° to 90°.
Hook

Redesigned built-in, spring-loaded retractable hook on the bottom of the center column provides a place to hang a stabilizing counterweight such as camera, sand or water bags.
Removable Leg Tips

Removable rubber leg tips are interchangeable with optional spikes
Rapid Column

Grooved rapid center column for improved stability.