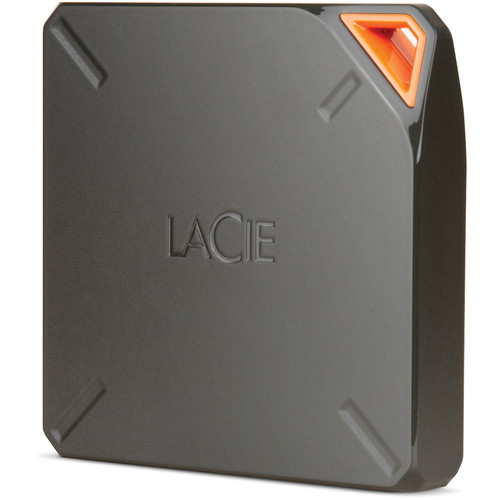 LaCie Fuel Wireless Storage Drive
Description
Additional information
Reviews (0)
Description
1TB and 2TB Storage Capacity
Wi-Fi 802.11 b/g/n, USB 3.0 Connectivity
Connect up to 5 Devices via Wi-Fi
Preformatted exFAT for Windows
iOS, Android, Mac, Windows Compatible
Stream to Apple TV, AirPlay Devices
Downloadable Seagate Media App
Up to 10 Hours of Battery Life
150′ Wi-Fi Range
The Fuel Wireless Storage Drive from LaCie is a convenient way to store and share media content and files for your computer, iPhone, iPad, and Android devices. The Fuel wireless drive holds up to 2TB of data, supports five simultaneously connected wireless devices and offers high-speed data transfer via USB 3.0. By installing the Seagate Media app, the LaCie Fuel allows you to stream and share your media library among connected devices. This portable storage drive is also compatible with Apple TV and AirPlay, allowing you to seamlessly go from watching HD content on a mobile device to your home entertainment system.
Play Longer

With 1TB or 2TB of wireless storage, the LaCie Fuel lets you store hundreds of movies or thousands of photos, songs, and documents, and access them on your iPad, iPhone, or Mac. With up to 10-hour battery life, the LaCie Fuel lets you enjoy your media all day, without needing Internet or cables.
Doing Its Share

The LaCie Fuel creates its own Wi-Fi network, just like your home router. So up to 5 devices can access its storage at the same time. You can even stream an HD movie to up to 3 devices simultaneously. And while the LaCie Fuel doesn't need Internet to work, it can connect to nearby Wi-Fi hotspots. It can then provide Internet access to up to four of your wireless devices.
Tap to Access

Install the Seagate Media app on your iPad or iPhone, and instantly you've got 2TB's worth of movies, music, and photos at your fingertips. Your saved files can be browsed according to content type, which lets you see all your movies, or music, or photos, in one place.
File Transfer Expressway

Thanks to Wi-Fi and the Seagate Media app, you can effortlessly move files from your computer or mobile device to the LaCie Fuel. Or with a few taps on the app, free up space on your iPad or iPhone by wirelessly pushing files to the LaCie Fuel.

The LaCie Fuel shows up on your desktop just like a regular external hard drive would, so it's easy to drag-and-drop to transfer files wirelessly. You can improve the speed of your file transfers by using the SuperSpeed USB 3.0 connection.

You can also get files onto the LaCie Fuel automatically using Dropbox. Add, edit, or delete a file from the Dropbox folder on your Mac, and the change is reflected on the LaCie Fuel's Dropbox folder as soon as you're in Wi-Fi range. You get off-the-grid access to your Dropbox folder, and a simplified way to share photos with friends and family.
Go Big with AirPlay

With AirPlay compatibility, the LaCie Fuel allows you to use your iPad to play HD movies on your Apple TV. Or tap to use your iPhone to play music on your AirPlay compatible speakers, as well as play slideshows of your Instagram photos on your HDTV.