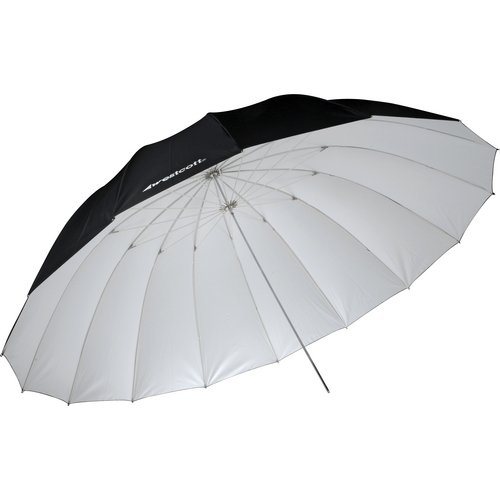 Westcott 7′ Parabolic Umbrella
AED 600.00
Description
Durable Fiberglass Ribs
Black Backing
Double Wall Shaft
Carrying Case
Photography discussions are full of desert island scenarios; "if you had to choose a single lens or if you had to choose a single light…" Well if you had to choose a single light shaping tool, you might do well to pick theWestcott 7′ Parabolic Umbrella.
First of all it's a really big, broad light source that wraps light around your subject yielding clean highlights and rich open shadows. But due to the special shape of the umbrella there's a unique mix of soft enveloping light with the kind of crisp detail you only get from reflectors. Put another way, if a beauty dish married a softbox, their child would be a parabolic umbrella.
This umbrella has a unique design structurally as well. The shaft is double walled for strength, but it tapers to 7 mm to fit Elinchrom and other European flash heads. Insert the shaft into the tilter bracket below the Elinchrom head. Older models or other brands may require separate purchase of an inexpensive umbrella mount. Instead of bendable metal, the umbrella's 16 inner ribs are made of durable fiberglass and the fixed black backing ensures that all of the light output is on your subject instead of through the umbrella. You can also vary the light-to-umbrella distance along the shaft for a harder or softer light or for a longer distance throw. With the Westcott 7′ Parabolic Umbrella less is definitely more.
Measures 7.25′ (2.2 m) in diameter
Constructed using 16 durable fiberglass ribs
Double wall shaft is engineered with double the thickness of most umbrellas
7 mm tapered umbrella shaft tip
Carry case with shoulder strap is lightweight and constructed of heavy-duty nylon