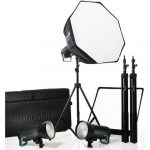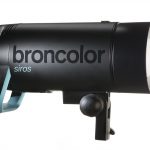 Broncolor Siros 800 S WiFi/RFS 2.1 Pro 3-Light Kit
AED 20,900.00
Description
3 x Siros 800 S RFS 2.1
– 1 x Softbox 60 x 60 cm incl. speed ring
– 1 x Octabox 75 cm incl. speed ring
– 2 x reflector L40
– 1 x synchronous cable 5 m
– 3 x Basic M stand,
– 1 x RFS 2.1 transmitter
– 1 x Flash Bag 3
– 1 x Accessory Bag
For those in need of extensive lighting setups and a variety of lighting modifiers to achieve their ideal look is the Siros 800 S WiFi/RFS 2.1 Pro 3-Light Kit from Broncolor. This kit features three compact Siros 800 Monolights each with a 800Ws output, built-in Wi-Fi and an RFS 2.1 receiver for remote triggering. There are also a variety of accessories in this kit, including a 2.5′ octabox, a 2 x 2′ softbox, two L40 reflectors, an RFS 2.1 transmitter, a 16′ sync cable, three basic M stands, a Flash Bag 3 for holding the heads, and an accessory bag that will strap onto the Flash Bag 3 for easily carrying everything.
The Siros 800 S is a reliable unit with a 9-stop power range that is adjustable in 1/10 or full-stop increments for control over light output. It is also quite fast with a flash duration from 1/8,000 – 1/500 second and a recycle time of 0.04 – 2.9 seconds depending on power settings. Additionally, the monolight has a halogen modeling light.
Built into the Siros is a specialized Speed Mode that speeds up the charging time and flash duration to provide a fast sequence of exposures, up to 50 per second at the fastest setting. Also, the unit has a USB connection for software updates and is fan-cooled for temperature control. An integrated umbrella reflector and mount as well as a size-optimized reflector are included for adding modifiers to the light.