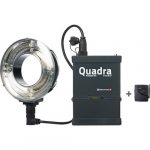 Elinchrom Quadra Hybrid Li-Ion-Ringflash Set
AED 7,100.00
Ready To Go Battery – EL 10404.1
Description
This Ready To Go Battery – Eco-Ringflash Set is ideal for many applications such as Fashion, Portrait, Nature, Medical, Dental and Research imaging.
The Elinchrom Quadra Hybrid Li-Ion-Ringflash Set combination contains the Eco-Ringflash with a white diffuser cap, a 2 m flash cable and a complete Quadra Hybrid RX with a Lithium-Ion battery, multi-voltage quick charger and a shoulder belt. With the Lithium-Ion battery, the whole pack only weighs 2 kg and allows you ~320 flashes at full power while being an incredible 15 x 8.5 x 18 cm !
The unit can be triggered and controlled at a distance via the EL-Skyport Transmitter Speed included in this kit. No extra EL-Skyport Receiver is required as the Quadra already offers a built-in Receiver for triggering, flash power control and Group settings.
*** Never store a discharged Li-Ion Battery. Recharge the Li-Ion Battery before you store it for a certain time!!!