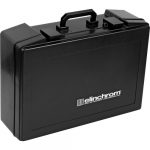 Elinchrom Ranger RX Speed AS 1100W/s
AED 10,600.00
1100W/s Kit with A Head – EL 10287
Description
This is an Elinchrom Ranger RX Speed AS 1100W/s strobe lighting kit. The "RX" signifies the ability to be fired by a remote control handset, or computer. The "AS" indicates the power pack's ability to divide the power asymmetrically between two attached Freelite flash heads. The power selection range is 7.5 f-stops. Lower the power to 7.5W/s, switch to slow recycle, and up to 5,100 exposures can be made.
Elinchrom Ranger Speed has flash durations as short as 1/5,120 second (with two "A" heads attached), ideal for sports, fashion, and theatre photography. Controls on the pack permit changing the output in 0.1 stopincrements in an easy-to-read digital display.
This is a one head kit, which includes a Freelite "A" flash head, which provides an ultra-short flash duration. Also included is a 33″ Varistar Umbrella/Softbox. The kit also includes a 7″ grid reflector, an extra battery, multi-voltage battery charger, 16′ special Elinchrom connector to PC sync cord, shoulder strap and a hard Ranger case.
Product Highlights
RX Speed AS Battery Powered Pack, Strap
Multi-Voltage Charger, Sync Cord
"A" Series Flash Head
Spare Battery
Varistar 33″ Umbrella/ Softbox
Grid Reflector
Hard Shell Case
EL-Skyport : Radio remote control and triggering ! Set flash power and switch on/off the modelling lamp with the ELS Transmitter Speed and the optional ELS Transceiver RX.
Unique control from an iPhone™, iPad™ and iPod Touch™ with the EL-Skyport App.
Remote your complete Ranger RX units with the EL-Skyport Software*, control up to 4 studios of 16 units with EL-Skyport RX or access extra features like flash counter or flash delay for strobing effects.
Consistent flash power at any power level.
7 f-stop range.
Power saving, auto cut off to save energy.
Modelling lamp modes: 15s, 30s & off.
Photocell – adapted to release in bright ambient light.
Auto Dump.
Power saving mode : Auto switch off.
Battery box quick release, replace batteries in seconds.
Fast battery recharging time: 3 hours to full power!
No memory effect on the battery. The electronics protect the battery from over and complete discharging.
Battery charger indicator, two green LED show 100%, one green 50% and one red LED 10%.
Multivoltage charger.
Moisture resistant rubber protectors.
Raised sockets complete with