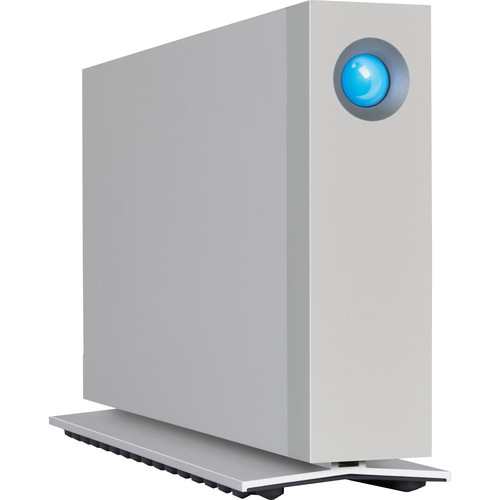 LaCie 6TB d2 Thunderbolt 2
Product number : 9000472
3 years warranty
Description
6TB Storage Capacity
Data Transfer Rates up to 180 MB/s
7200 rpm Rotational Speed
2 x Thunderbolt 2 Ports
1 x USB 3.0 Port
AES 256-bit Software Encryption
Fan-Free All-Aluminum Enclosure
With a combination of Thunderbolt 2 and USB 3.0 ports, the 6TB d2 Thunderbolt 2 External Hard Drive from LaCie is a versatile storage solution. USB 3.0 connectivity offers a maximum data speed of up to 5 Gb/s while Thunderbolt 2 offers bi-directional data transfer capability with a maximum throughput of up to 20 Gb/s. While these data rates are theoretical maximum data speeds, this hard drive offers a max data transfer rate of up to 180MB/s for a streamlined workflow. The Thunderbolt 2 ports also allow for the daisy chaining of up to six devices, including a 4K display, to a single Thunderbolt port on a computer.
Inside the d2 Thunderbolt 2 Drive you will find a Seagate 6TB hard drive spinning at up to 7200 rpm. This enhanced storage capacity and drive speed when accompanied with the fast data transfer rate allow you to browse RAW Adobe Lightroom files with no lag. The unibody aluminum enclosure keeps this fanless drive cool while 256-bit AES software encryption ensures that stored files remain safe and secure. The d2 Thunderbolt 2 Drive also comes compatible with both Time Machine and Windows Backup for easy data backup.
Versatility for Professional Environments

The LaCie d2 combines Thunderbolt 2 and USB 3.0 interfaces to deliver enhanced speeds when connected to various late-model PC or Mac computers. Dual Thunderbolt 2 ports let you daisy chain up to six devices to a single Thunderbolt port on a computer. This means that you could connect up to five LaCie d2 plus a 4K display to an iMac computer's Thunderbolt 2 port, bringing improved scalability and convenience to 4K or other workflows. And since USB 3.0 and Thunderbolt 2 are backward compatible, you always get the fastest speeds your computer allows.
Enhanced Speed for Leaner Workflows

The LaCie d2 combines advanced interfaces with a Seagate 3TB 7200 rpm hard disk, resulting in speeds of up to 220 MB/s. With this speed, it's possible to store and browse a massive RAW Adobe Lightroom library with zero lag.
Unibody Enclosure

The casing is forged from a single sheet of aluminum, providing rigidity for long-term durability.
Power-Saving Mode

For Thunderbolt connections, save energy by pressing the power button to spin down disks without interrupting daisy chain transfers. For USB connections, disk spins down automatically when the host operating system goes to sleep.
Fan-Free Cooling

The seamless, all-aluminum unibody enclosure draws heat away from the hard disk. The integrated base extends the enclosure's surface area, providing even more space for heat dissipation. The results are a long lifespan for components and ultra-quiet operation.
Integrated Cable Management

Prevent accidentally disconnected interface or power cables without compromising the look and design of the product.
Anti-Vibration Features

A cushioning base and vibration-absorbing hard disk mounts combine to reduce vibration.
Upgradable to External Hybrid Storage

Install the optional LaCie d2 SSD Upgrade (sold separately) to multiply speeds by a factor of five, with zero compromise in capacity. At up to 1150 MB/s, the LaCie d2 with the d2 SSD Upgrade delivers speeds that exceed the performance of even the internal SSD on your late-model PC or Mac computer – in a single-disk enclosure. Remove the rear panel on the LaCie d2 to install the upgrade, and instantly you have an additional 128 GB of SSD storage. Two separate drives mount on the computer: one for the SSD, and one for the hard disk. Use the SSD for bandwidth-intensive tasks such as fast file transfers, audio mixing, video editing, or OS booting, and use the hard disk for file archiving.
Enhanced Backup and Security

The LaCie d2 includes a backup software suite, and offers compatibility with Time Machine and Windows Backup software. It also includes LaCie Private-Public software, which lets you password-protect volumes with AES 256-bit encryption.