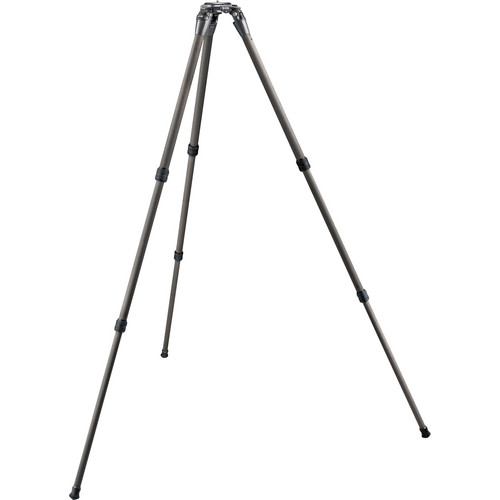 Gitzo GT-2532S 6X Systematic 3-Section Carbon Fiber Tripod Legs
Description
Load Capacity: 55 lb
Max Height: 53.5″
Min Height:3.9″
Folded Length: 25″
Leg Sections: 3
Weight: 3.8 lb
Flat Center Disc
No Center Column
G-Lock Leg Locks
The Gitzo GT-2532S 6X Systematic 3-Section Carbon Fiber Tripod Legs is a Series 2 tripod–the smallest tripods in the Systematic range. The improved carbon fiber tubing is stronger, lighter, and as resistant as its 12-layer predecessor, with good torsional rigidity. Carbon "6X" is manufactured using a complex, 3-D process, weaving 6 layers of carbon fiber into smooth, solid constructed tubes. This tripod can operate at a minimum height of just 3.94″ (without the center column) and has a maximum load capacity of 55 lb. It's designed for DSLRs with lenses up to 300mm–it's also ideal for lightweight camcorders and spotting scopes.
Anti-Rotation Leg (ALR) System

The Anti-Rotation Leg (ALR) system makes it quick and easy to open and close the tripod. Simply turn all of the locking rings at once and the whole leg can be pulled out in seconds.
G-Lock Design

The G-Lock mechanism has been completely redesigned in order to achieve a 20% increase in rigidity, faster operation and stronger, safer locking. G-Lock's special design also provides a "gravity lock" effect: the higher the load applied vertically to the leg, the stronger the lock.
1mm Gitzo 6X Carbon Fiber Tube

Gitzo was able to develop a six-crossed multilayer carbon fiber 30% lighter than the previous 1.5mm generation that features the same exceptional performance of stability and vibration absorption and unbeatable quality.
Performance Design

Performance design allows the legs to be set individually at 24°, 55° and 90° to cover every angle you want to shoot.
Removable Leg Tips

Removable self-locking rubber leg tips are interchangeable with Gitzo universal accessories such as the big foot, long spike, etc.