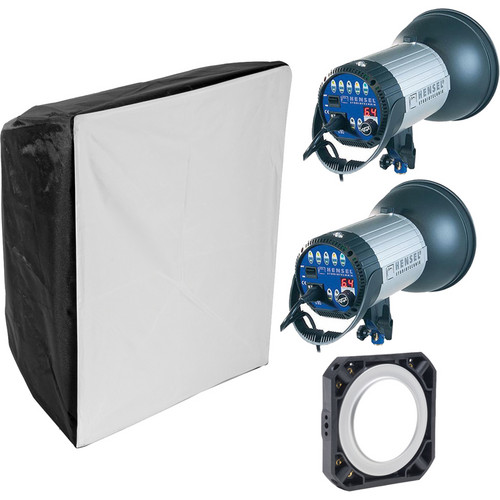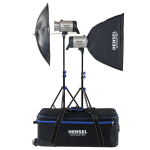 Hensel Integra 1000 Plus with FREEMASK 2 Light Kit
Description
2x 500W/s Flash Heads, 1 Sync Cord
2x Aluminium stand III (200)
1x Umbrella Floodreflector (87)
1x Umbrella Economy (3180)
1x ULTRA Softbox E 45×65 cm (4601)
1x Strobe Wizard Plus RadioTransmitter
2x Modeling lamo 300W/s
Softbag VII Wheeled Kit Bag (4201)
1.93 Sec. Full Power Recycling Time
Multi-voltage: 110-230 VAC
The Integra 500 Plus FREEMASK 2-Light Kit with Chimera Softbox from Hensel is built around two 500W/s multi-voltage monolights with solid core specs and convenience features that make them a pleasure to use. Each head ships with an umbrella reflector, dome-covered flash tube, 300W modeling light, protective cap and power cord. The kit also includes sync cord, radio transmitter, 16×22″ Chimera Pro II X-Small Softbox, speed ring, 2 light stands, a grid reflector and a wheeled bag to store and transport it all.
The Integra 500 Plus boasts flexible power settings allowing a precise, 6 f/stop variable power output range in 1/10 stop increments, visible on an easy-to-read LED screen. The powerful 300W modeling lamp is strong enough for the multi-tasking image maker to shoot video, while it can be set to proportional to preview the effect of the flash on the subject. Besides fan-cooling, which lengthens the life of the flash tube, modeling lamp and circuitry, an electronic monitoring system ensures that the Integra Pro Plus doesn't overheat.
The head's action-stopping flash durations as short as 1/470 sec. (t.1, full power), is backed with fast recycling time of 1.93 seconds (@ 230 VAC) at full power, making it a savvy choice for everything from sports to kinetic product work. The durable, cylindrical extruded aluminum alloy body features a built-in ergonomic handle and improved quick-action reflector mount. The stand mount, fixed on previous models, now slides along the body so that the correct fulcrum point can be found to counterbalance front-heavy accessories like large softboxes. Other features include visual and audible recycling alerts, a user replaceable flash tube and a protective dome.
This version of the Integra 500 features a built-in, 4-channel Hensel radio slave receiver which is compatible with the Hensel Radio Slave Trigger and available separately. This head also includes FREEMASK technology which is used like chroma keying to composite images. With separate purchase of a FREEMASK transmitter, the head will automatically vary the flash output in sequential exposures to create a mask.