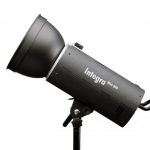 Hensel Integra 600W/s Mini 600 Monolight
Description
Recycling: 0.2 – 1.7 Sec.
Flash Duration 1/1,100 sec @ Min. Power
6 Stop Range
7 Segment Performance Indicator
Fan Cooled
300W Modeling Lamp
Low Sync Voltage
User Replaceable Flash Tube
Quick Change Reflector
Durable Touchpads
The Hensel Integra 600W/s Mini 600 Monolight has the flexibility, control and power photographers require for commercial, portrait, wedding or industrial work.
And the Mini 600 has brains as well as brawn. Backing up an impressive 600W/s of power are convenience features that elevate it from being just another flash head to a professional lighting tool. But what good is power if you can't deliver it when it's needed? The Integra Mini 600 recycles in a lightening 0.2 – 1.7 sec. @ 120V. And it does it at flash durations as short as 1/1,100 sec., so that every fleeting gesture is frozen in a dance performance, for example. And what's power without proportion? The Integra Mini 600 offers a 6 f/stop range, down to 1/32 power in 0.1 stop increments, which makes it perfect for photographers using digital cameras.
Finally, the Integra Mini 600 is a multi-voltage monolight, which makes it useable almost anywhere in the world that has electricity. Its small size and weight mean that you'll want to take it everywhere.
For complete specs on select items included with the Mini 600 please click on the links below:
Metal housing with integrated tilting bracket and umbrella clamp
Multi-voltage (110 – 230V AC) high-performance mains switch
Extremely fast flash recycle time (1.7 sec @ max power)
Extremely short flash durations
Bright 300 W modeling lamp (proportional)
Automatic energy saving mode for modeling light
Digital rotary switches with notch stop
Pluggable flash tube for easy replacement
Output adjustment in 1/10 f/stop increments
Performance adjustment range of 6 f/stops
Large 7-segment performance indicator
Active cooling due to extremely quiet fan
Quick-change system for reflectors with EH 3.9″ (10 cm) connector
Durable foil surface with clearly detectable imprint around push-buttons for tactile feel
Hensel continuity – name and position of switches and control units are generally the same from model to model
APD, internal power reduction when reducing power output
Built-in photocell, switchable
Synchronous socket for standard cord 1/4″ (6.3 mm)
Test button for manual test firing
Optimized integrated inner reflector for best light efficiency
Very low synchronous voltage protects digital cameras
Thermal monitoring of performance electronics