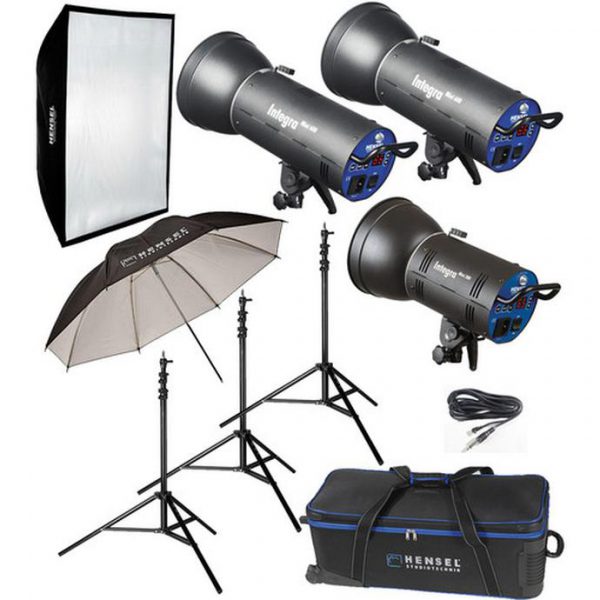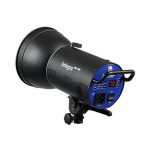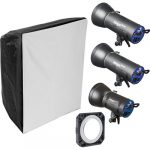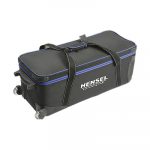 Hensel Integra Mini 1500Ws 3 Light Kit
Description
2x INTEGRA Mini 600 (8380)
1x INTEGRA Mini 300 (8370)
3x Modeling lamp 300 W (128)
1x Umbrella Flood reflector (87)
1x Economy umbrella (3180), 1 Reflector 7″ (504)
1x Softbox E 80 x 100 cm (3080100)
4 Channel Radio Transmitter/Receiver Kit
3x Integra Alu Stand air cushioned (202)
1x Rolling Softbag VIII (4191)
6-Stop Flash Power Range
7-Segment Power Display
Ideal for 3-point lighting, the Integra Mini 1500Ws 3-Light Kit with Chimera Softbox from Hensel is comprised of one 300Ws and two 600W/s Integra Mini multi-voltage monolights with solid core specs and convenience features that make them a pleasure to use. Each head ships with a tilter bracket, 300W modeling lamp, flash tube, protective cap, and power cord. The kit also includes a 4 channel radio transmitter and receiver kit, 2 reflectors, sync cord, an umbrella, a 16×22″ Chimera Pro II X-Small Softbox, speedring, 3 light stands, and a rolling case.
The Integra Mini 300 head Plus boasts a 6 f/stop power range adjustable in 1/10 stop increments and displayed on an easy-to-read LED screen. The powerful 300W modeling lamp is strong enough for the multi-tasking image maker to shoot video, while it can be set to proportional to preview the effect of the flash on the subject. Besides fan-cooling, which lengthens the life of the flash tube, modeling lamp and circuitry, an electronic monitoring system ensures that the Integra Mini doesn't overheat.
The head's action-stopping flash duration as short as 1/1800 sec. (t0.5) is backed with fast recycling time of 1.3 seconds at full power, making it a savvy choice for everything from sports to product work. The durable, cylindrical extruded aluminum alloy body features a built-in ergonomic handle and improved quick-action reflector mount. Other features include visual and audible recycling alerts and a user replaceable flash tube.
The Integra Mini 600 heads each have double the power of the Mini 300, 1.7 sec. recycling to full power and flash durations as short as 1/1000 sec. The design is otherwise identical to the Mini 300. Both versions use the popular Bowens S-mount making it compatible with a wide range of light shapers from several brands that use this mount.