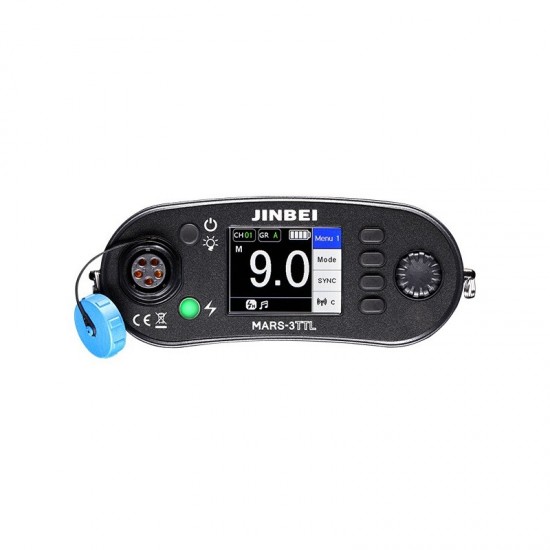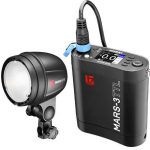 Jinbei MARS-3 TTL Battery-Powered Outdoor Strobe
| | |
| --- | --- |
| Guide number | 55 |
| Power | 250Ws |
| Power adjusting | 1/1 ~ 1/256 |
| Flash duration time | 1/800s ~ 1/19000s |
| Recharge time | 0,03s ~ 1,3s |
| Colour temperature | 5500K ±150K / FREEZE 5500K ±800K |
| | LED |
| Modelling lamp | 10W |
| Modelling lamp mode | 100% / OFF |
| Charge indicator | Dźwiękowa |
| | Manualny / Automatyczny TTL c/n/s/f |
| | TAK |
| | Freeze / EasyCap / Delay |
| | TR-Q6c/n/s/f / TR-611 / TR-612 / TR-V6 / TRS-V / TR-A9 / TR-A6 |
| | 16 |
| | TAK |
| | 10 |
| | TAK |
| | TAK |
| | Pasywne |
| | TAK – do aktualizacji oprogramowania |
| | Akumulator 14,8V / 2500mAh |
| Dimmensions | Głowica Ø105x145mm / Generator 165x67x195mm |
| Weight | 1,92kg |
Description
Brand
Reviews (0)
Description
The Jinbei MARS-3 is a portable flash unit for outdoor and studio use. The Delicacy II lighting modifier fixing system allows you to use various types of lighting modifiers such as snooty, bowls, color filters, gates, etc. Included with the lamp are a central unit, a 2500mAh battery, a mains charger, a shoulder strap Central cover, head cover, and bag carrying all components of the set, with shoulder strap.
The lamp can be operated in TTL or manual mode. In the TTL mode, the flash output power is automatically set and the FEC can be adjusted in the +/- 3 EV range. In manual mode, synchronization can take place in normal mode, HSS (fast shutter synchronization, up to 1 / 8000s), and FREEZE freeze mode when the flash duration is shortest (1 / 19000s).
Remote control of the lamp can be done via a built-in receiver, compatible with TR-611/612, TR-A6, TRS-V, TRS, or any other triggering via the synchro.
The lamp features a legible color LCD display showing all current lamp settings and features. The flash is adjusted in increments of 9 stops in increments of 1 or every 0.1 stops. The head also features a built-in 10W LED modeling lamp. Thanks to the use of LED cells, modeling light can be used without worrying about the battery being discharged too fast.
The lamp has an electronic system to protect against overheating. In the event that the temperature inside the lamp is excessively high, a message will appear on the display and the flash will be blocked until the temperature drops to a safe level.
Kit Contents:
    

Flash head MARS-3

    

central unit

    

14.8V 2500mAh battery

    

charger

    

Cover for the head

    

Cover for central unit

    

Shoulder strap to the cover

    

Bag for all kit items

    

Shoulder strap for the bag
Specification:
    

Guide number: 58

    

Adjustment range: M: 1.0-9.0 with step 0.1 or 1; 

TTL: FEC +/- 3.0

    

Loading time: 0.03-1.3s

    

Operating modes: TTL, Manual

    

Synchronization modes: normal, HSS, Freeze

    

Flash duration: NOR: 1 / 800-1 / 8000; 

Freeze: 1 / 800-1 / 19000s

    

Color temperature: NOR: 5500 +/- 150K; 

Freeze: 5500 +/- 800K

    

Modeling lamp: 10W

    

Built-in receiver: 2.4GHz

    

Channels / groups: CH00-15; 

GR: A / B / C / D / E / F

    

Trigger: Built-in radio receiver, 3.5mm synchro socket, photocell, TEST

    

Synchronization voltage: 5V

    

Battery: 14,8V, 2500mAh

    

Overheat protection

    

USB slot for software update

    

Weight: 1.92kg

    

Dimensions: Head: Ø105x145mm; 

Driver: 165x67x195mm