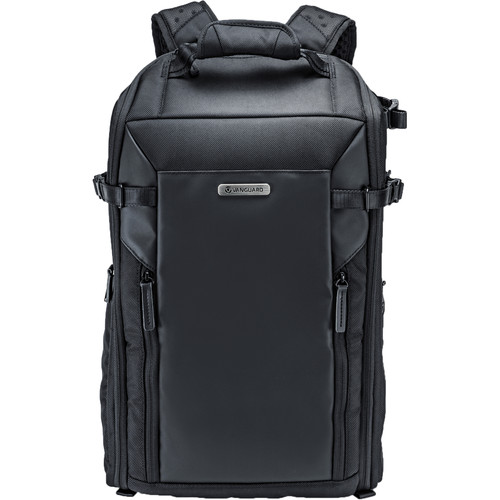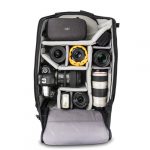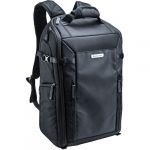 Vanguard VEO Select 48BF Backpack
Color
Black
Item Weight
4.28 lbs.
Max Load Weight Capacity
25.57 lbs.
The VEO SELECT 48BF is a front-opening backpack that fits 1-2 Pro DSLR, 3-5 lenses (up to 70-200mm f/2.8), a flash, accessories, and up to a 15" laptop and a 10.5" tablet. Alternatively, you can fit video gear, a small drone, or a spotting scope. The multi-access and flexible internal setup offers classic front and side access, or front and top access, with the option to fit a tripod inside.
Available in two muted color options: Black and Green
Ultimate gear versatility – camera gear, video gear, small drone, and spotting scope
Multi-access quick action – full front, quick side, and easy top access
Comfortable carrying – padded airflow back and harness
Always protected – well-padded all around
No fumbling – bright-colored interior makes finding things easy
Well-organized – dedicated pockets for all essentials
Divider pad – lens flex divider can also be used to create tripod/monopod leg padding for comfortable carrying
Safe storage – secured rear pocket for travel documents and wallet
Business-oriented – holds up to a 15″ laptop and a 10.5″ tablet
VEO TRIPOD LINK – external tripod carrying system and internal tripod storage
Clean and dry – water-resistant and anti-scratch material on the bottom
Keep dry – total-coverage rain cover
Description
Brand
Reviews (0)
Description
The VEO SELECT 48BF is a full-gear backpack that offers unique storage combination possibilities. You can opt for the full front opening setup, arranging your gear as you prefer using its ample space. Alternatively, you can set up the bottom 2/3 with gear for quick side access and utilize the top 1/3 compartment for separate access to either more gear or personal effects. Or, you can set up the gear for easy top access and dedicate the full-length side compartment to store a tripod or spotting scope. This sturdy backpack guarantees rugged protection and can easily safeguard 1-2 Pro DSLR, 3-5 extra lenses (up to 70-200mm f/2.8), a flash, and accessories. The bag also allows you to store video gear, a small drone, or a spotting scope (individually or alongside your camera gear). You can even place a tripod in the bag, depending on the gear within and the available space; or, it can be connected externally, docked in the side pocket (which is also a great water bottle carrier).
Strategically placed internal and external pockets allow you to arrange all other essentials. Store a laptop up to 15" in a dedicated rear compartment; plus, a 10.5" tablet slips into a protective sleeve on the rear opening panel. A full-length double-sided front zipper pocket can be used for a notebook, extra tablet, or as a sling for a jacket. A concealed rear pocket secures valuables such as a wallet or travel documents close to your body, where no prying hands can reach. The flexible divider is perfect for extra lens protection, or it can be used to create a pad for a tripod/monopod leg and provide comfortable carrying over the shoulder when quickly moving between locations.
Enjoy all-encompassing protection thanks to superb bag construction, rugged materials, and sturdy dividers. Stay dry and always ready with Vanguard's reinforced water- and scratch-resistant material on the bottom, along with our total-coverage rain cover.
The VEO SELECT 48BF features a super-comfortable ergonomic airflow back and harness. When traveling, it simply connects to the handle of your wheel-along luggage and lightens the burden while traversing through airports. The backpack also has a convenient handle to hang it on a hook or grab on the go.